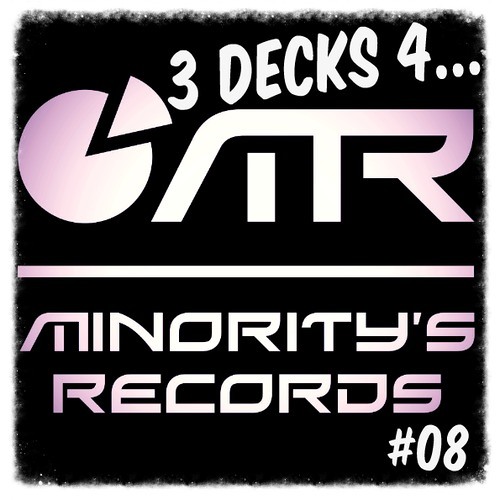 "3 Decks 4…" #08 : Minority's Records, Broadcasted the 9th of May 2014 on cue-radio.com.
Minority's Records is the emanation of the common vision of Jey NyFer (aka Dysfuncktion), and JC Laurent about techno music. They share a common techno music approach and the label create a coherent and strong bunch of releases, providing a constant flux of proper techno.
But when it comes to Minority's Records, you can't only speak of releases : the Minority Club is the club emanation of the label, and is located in Nice (FR)…
This wonderfull place is leaded by Ahm Red, Jey NyFer and Sachreiter Jonathan, and is the place to be when it comes to Techno and House Music on the "Côte d'Azur"…
Please please forget the hipsterish venues you can find in Cannes or the numerous tourist traps all along the French Riviera : Only the past two months, DVS1, Dasha Rush, Drumcell, Norman Nodge or Audio Injection played at Minority Club. But the venue also supports local artists, and JC Laurent regularly schedules producers and DJs like Dj Osmoz, K21, Shahin, just to name a few, who plays regularly there.
Playlist : | Minority's Records tracks : 60 %|
– Korridor – Vacuum Decay | Hypnus
– JC Laurent, dysfuncktion – Affected (Attemporal Remix) | Minoritys-records
– I-forgot-to-note-that-one-sorry-sorry-sorry | Minoritys-records
– Delko – Planeta | Propellant Music
– G-man-techno( Clemens Neufeld remix) – Scratch 1.. | Self Release
– K21 – Sismic Survey (Original Mix) | Minoritys-records
– Energun – Low Level Original Mix | Minoritys-records
– Energun – Quick Navigation Original Mix | Minoritys-records
– K21 – Subthing (Servietzki Remix) | Minoritys-records
– Keith Carnal – Analysis | Affin
– Phil Denton – Fobos | F.O.S.
– Dimitar D – Secret Symphony (Rich Jones Remix) | Indeks Music (coming soon…)
– JC Laurent Dysfuncktion (Original Mix) | Minoritys-records
– Mikael Pfeiffer – Broken Your Machine (Delko Remix) | Minoritys-records
– JC Laurent – 999 (D.Part Remix) | Minoritys-records
– Emir Hazir – Hutch (Original_Mix) | F.O.S.
– Roberto Figus – Line Acid | kidnapping-netlabel
– Philippe Petit – Stars (Terrencedixon Interpretation) | Knotweed
– shxcxchcxsh – fffnnfnnnfn | subsist
– Barat – Bleeping Noize (JC Laurent Remix) | Minoritys-records