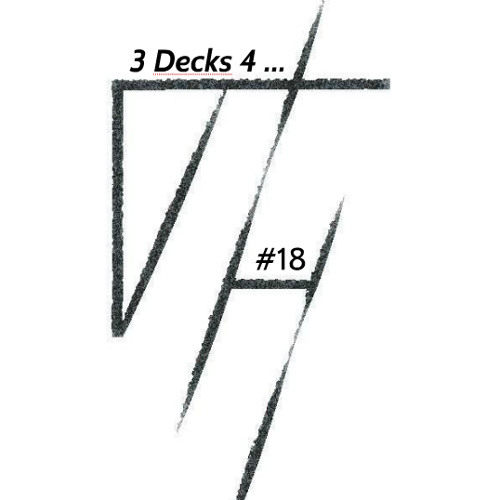 This week i'm very pround to introduce you the work of friends from Chicago, whho do a lot of work for techno music and release a lot of very good free music (but please, share at least of fiew buckets to help them in their projects!
The mix was recorded on an hybrid setup (a groovebox, two modular noise generator, three decks for the tracks) and it was a lot of fun…
But most of all, I interviewed Adam, for Don't trust Humans, who answered my questions about his label, the OFR podcast serie, Chicago techno scene, and more…
Can you describe the processes which lead you to the actual form of "Don't trust Humans" (podcast, event promotion, label)? What came first and what was the purpose behind each of those activities?
Don't Trust Humans originally started as a platform for me to help expose certain DJs/artists that I liked that maybe weren't getting enough exposure. At the time, DTH was extremely small, so I'm not sure how much influence I had on others, but I had a group of followers that would check out the podcasts whenever they would surface.
The label came next. A couple years into the project, I had asked a few friends if they wanted to join me, and contribute. This is when we decided to release the first Hal Floyd, Vision. He was a friend of Daniel (Debbie), so we thought that we could start to build the label with his material. Braden (Hal Floyd) was really the foundation to release original work.
Events came later that year (2012). I was confronted by Qbot when she was living in Chicago to do a DTH themed night for our 2 year anniversary at a Chicago club called Primary. It was a Thursday night. Attendance wasn't great, but we had a lot of our friends come out. That was the start of our small run of events. I'm very pleased with the events we did. We brought artists that we truly admire, and worried about costs later. That mentality can't exist for an extended period of time, but having the people we hosted play our parties was much more important to us. Events are taking a backseat for us right now.
You release your music on bandcamp. Is there a kind of ethical or political ambition behind it?
Bandcamp is a great resource. We were using a web service before that allowed us to put together a very minimal website, but once our membership ran out there, we transferred our dot com to bandcamp. The payout works in the favorite of the label/artists. We are a net label, but do accept any 'donation' to help cover costs of mastering, and to get back to the contributing artists.
The plan is to get a physical release out at some point. This all costs money, as I'm sure anyone knows. The core members of DTH are students, or very recent graduates, so we try to work within our means the best we can.
Chicago is an iconic city when it comes to house music. In this mythological context, what is the place of techno scene in the windy city?
I could write a lengthy response for this question, but I'll try to keep it short. First, I love this city. I love it for many reasons beyond music, but the music it presents made a huge impact on me. That said, techno is a struggle here. I would love to see a wider acceptance when it comes to this genre of dance music. In order for this to happen, more promoters, club owners, and everyone in 'power' is going to need to take some risks. Unfortunately, I don't see that happening anytime soon.
That said, we get an incredible amount of artists passing through each year, so I really can't complain too much. I would just love to see consistent high caliber techno events like we see in New York (and LA), happen in Chicago.
The label's name "Don't trust humans" might seem a bit cynical. Is there a deeper meaning behind this?
There most likely is, but I can't pinpoint it. I started DTH during a rather strange, and not so memorable, period of my life. The past four years have been somewhat of a rollercoaster for me, but this project has kept me somewhat grounded since its inception. It wouldn't be too much of a longshot to assume that the name stems from a skewed perception of my surroundings at the time, but mostly it probably just popped in my head, and I thought it had a nice ring to it.
What are the label's upcoming projects?
We have some releases in the bag that we need to get mastered. Very excited to share DTH010, which comes from stateside Only for Robots veteran, Worker/Parasite, who recently released on Opal Tapes? Ben was brought to our attention via Dreamlogicc (San Francisco). That release should see the light of day before the end of the year. In addition to that, we have some demos from a new project out of Philadelphia that was a collection of live jams. Really deep and intricate stuff. It's always a pleasure getting new faces to submit demos to us. We are a small scale label who does things their own way, so for artists to invest faith in us is pretty damn cool.
As always, we will continue to push our previous releases and projects from DTH members. Hal Floyd is a machine when it comes to composing music. He has an incredible amount of talent, so it was great to see another label pick up his work, which was featured on XLR8R. Debbie recently graduated from NYU, and is still residing in New York. He's constantly playing records, and working on his own productions. I feel blessed (for lack of a better word) to have these guys on board with this project. They both have a huge amount of talent, and I truly believe the future is very bright for them.
If you have to pick five tracks in your label's catalogue?
That's tough. I can't pick five tracks. I'm proud of every one of our releases. When we first decided we were going to turn this into a label, the idea was to release music from everyone involved with Don't Trust Humans. At the time, it was me, and 3 other friends (Hal Floyd, Debbie, and Pablo Duarte – artist names). Then, we were approached by other artists, or we approached other artists, to see if they'd be interested in contributing. Our catalogue spans different styles, and we will continue to work without boundaries.
If you have to give your actual top five?
Picking a top 5 ever is an extremely difficult task. Instead, I can handpick a few tracks that I've really been enjoying recently.
Talker – Anthony [Downwards]
Worker/Parasite – Prophet [Opal Tapes]
Hal Floyd – Colorful Water [Blankstairs]
Debbie – Ecstasy Music for Dancing [unreleased]
tdel – Ascend and Return [Don't Trust Humans]
Playlist :
1 tdel – Ascend and Return [Don't Trust Humans]
2 Claudio PRC – Typha [The God Planet]
3 Hal Floyd – You're Alright [Don't Trust Humans]
4 Komprezzor – Let It Be Drones [Don't Trust Humans]
5 Ttinga – Kinwork [Don't Trust Humans]
6 Yuji Kondo – Something For Those Who Wait [Perc Trax]
7 Ntogn & Tozzy – Wsjr [Hypnus]
8 Komprezzor – Midnight Mist [Don't Trust Humans]
9 HNTSNGR – Church [Don't Trust Humans]
(Chorus on the flight revamp)
10 Kryss Hypnowave – Tail Fiber (Wunderblock Remix) [Wunderblock]
11 Debbie – Off Said [Don't Trust Humans]