0001__Tapage__Eight of Seven______Tapeface
0010__Tapage__Lets Choke When The Bird Drops____Tapeface
0011__c.db.sn__Motionless, By Harvest Moon's Light We Lie____Crime League
0100__Tapage__Coriolis__Effect____Tapeface
0101__Gleb Foulga__Movement IV – Glacial Stream And Golden Dawn____Tapeface
0110__Tapage & Espoir__Valentape____Tapeface
0111__Tapage & Espoir__Hey Amplifier a Monster____Tapeface
1000__Solar Fields__Broken Radio Echo____Ultimae Records
1001__Neptunian8__Light Across Window____Formik
1010__Gleb Foulga__Movement I – Shrines Of Scattered Glass____Tapeface
1011__Tapage__Citizen Dropout____Tapeface
1100__Richard__Devine Varseop____Detroit Underground
1101__Landing On Venus__Circles____Unreleased
1110__Tapage__Cetacians____Tapeface
1111__Tapage__Combine____Tapeface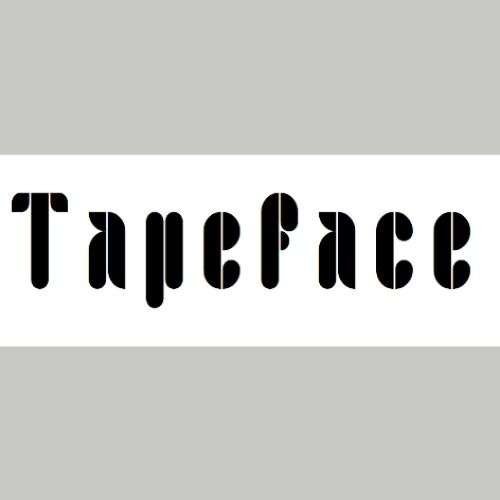 Tapeface is a structure leaded by (and hosting mostly) Tapage, who released 4 albums on the legendary IDM's label : Tympanik audio. He also recently releases his latest LPs one of the finest structures when it comes to "different shaped" electronic music : Ad Noiseam.
Tapeface hosts mostly Tapage's releases, but also collabs with Espoir, and a release by Gleb Foulga. Tapage also answered to a short interview you can read there :
1 You released a lot of things on exceptionnal platform such as Tympanik Audio or more recently Ad Noiseam. Why did you create Tapeface whilst in a context you were already established in this labels?
Tapeface was born in a strange time for me as an artist. Before I released my first album on Tympanik Audio I had already been writing music for several years. I had a lot of material ready and those tracks formed the core of my first set of releases. At a certain point I still had a lot of great music, but it was impossible for me to create a coherent story out of them. I started Tapeface as a way to release these tracks in smaller collections. For me it was also about reducing the pile of old music in order to shift my focus to new musical areas to explore.
2 How do you produce your tracks? Are you working on a particular setup? Are you using machines and instruments or are you working mostly on DAW?
I'll use anything as long as it helps me to express a musical idea. The core of my Tapage work is still the 'tracker' way of composing. My main DAW is Renoise but I also write my own musical programs using SuperCollider. That gives me a lot of flexability on the digital front. At the same time I also have a nice collection of toy instruments, some guitars and a lot of (circuitbend) electronics. Fieldrecordings is yet another way of getting some new sounds. In the end its all about experimentation and trying out new things. I tend to keep on evolving my work proces and steer away from particular 'tricks' that give a reliable result. I rather fail while trying out something new than succeed at repeating myself.
3 There're mostly releases of yours on tapeface. Who are those enigmatics "Espoir" and "Gleb Foulga"? How they come to be the only other people released on Tapeface?
Both are very good friends of mine. I'm collaborating a lot with Espoir (Roald van Dillewijn). He is also a bandmember of The Void* (http://www.thevoidpointers.com) with which we're working on a full length album next year. Gleb is an amazing composer and I really wanted to give him a platform to show his talents.
4 Your style flows from ambient to almost techno glitchy tracks. How do you organize your live acts, your sets? Do you tend to play "harder" in front of the public or do you maintain the vibes of your work as a producer during your gigs?
When I perform live I do adjust the music to the vibe of the evening. I have played sets ranging from harsh noise to ambient and almost anything in between. These kinds of shifts can also happen during a set. With a lot of performances I go as an audience member, the artists seem to stick to one particular genre. I prefer to mix things up a bit more… much more exciting.
5 IDM's landscape is sometimes really strange for people who aren't use to it ("3 Decks 4…" listeners are more techno music listeners). Do you have any advices to give them if they want to dive into this genre?
First:
Forget about genres… just enjoy the sounds!
then also… Some music really needs to grow on you before it starts to make sense. So give it some time. Listen to all the little details. Try to enjoy the complexities.
6 What is your latest musical hearthcrushes (your actual top five releases/tracks)?
Lets see…
Clark – Winter Linn : Every time a new Clark surfaces my inspiration levels go up!
Von Nohrfeld – Konduktiv : He's a friend of mine and he has worked very long and hard on this album… Resulting in a work of beauty.
Joseph Fraioli – Nebulæ
Tape – Dripstone
Ocoeur – Kofski