00001__Kuroi__Serene____Aconito Records
00010__Obtane__Sonic Enthomology____Aconito Records
00011__Zone Démersale__Notte del Mondo____Aconito Records
00100__Ness__Obsolete Signs____Aconito Records
00101__Zone Démersale__Aurora____Aconito Records
00110__Ness__Hive Structure____Aconito Records
00111__Etapp Kyle__Empty Mind____Aconito Records
01000__Deepbass__Analysis X.Y.03____Aconito Records
01001__Ness__Citiescapes____Aconito Records
01010__Kuroi__Wild____Aconito Records
01011__nAx Acid__The Soul Trap (Giorgio Gigli EDIT)____Aconito Records
01100__Samuli Kemppi__250 Days____M_Rec Ltd
01101__Ink__Underworld Jungle____Aconito Records
01110__Obtane__Inner Absorption____Aconito Records
01111__HNTSNGR__Desolation____Unreleased
10000__Ink__The Ancient Being is Dancing in Your Mind____Aconito Records
10001__Deepbass__Analysis X.Y.02____Aconito Records
10010__Fjader__Ison____FullPanda
10011__Ink__Amygdaloid Voices/On the Treshold____Aconito Records
10100__Kuroi__TX Outro____Aconito Records
Hardware_used_alongside_the_mix
Patchblock_1__programmed_as_a_bass/drone_generator
Patchblock_2_"programmed_as_a_withe_noise_generator
This week, I recorded a podcast focused on Andrea Ruffino's label, started in 2007, and releasing from Britain a constant flow of proper deep and mental Techno. Since its birth, the label delivered a constant flow of quality releases, always in tension between the dancefloor and the experimentation room, the mind and the heart, the body and the soul.
The label released stuff from Ness, Giorgi Gigli, Hironori Takahashi, Etapp Kyle, Obtane, and many others. As a cherry on the cake, Andrea, the label founder also released several EPs on the label under is moniker nAx_Acid.
________________________________________________________________________________________________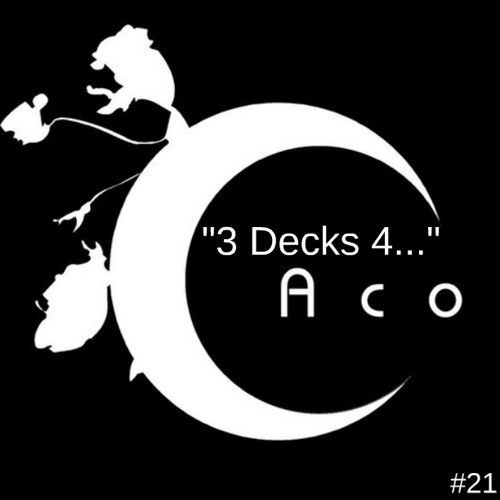 1. Hi nAx, can you tell us what leads you to create aconito records? I created Aconito Records in 2007 but it took me a while to create the first release. I always had this dream since I was 17: to have my own record label where I could choose the music to release, music I like, and the different artists from all over the world. In 2005 I did my first release with a record label called 'Disappear Here', but I had to follow their guide lines when I was creating the music and sometimes had to accept compromises. Then I decided that it was the right moment to open my own project for my own music, a space where I could be creatively free and have no creative and sound restriction. I consider Aconito Records as a platform for artists and myself to push our music a bit forward, and that is what I'm trying also to do with the artists who works with me, pushing them to make something different and original.
2. The more the time goes, the more aconito seems to release tracks which are exploring the borders between deep techno and ambient or experimental… Is it still relevant for you to release only stomping techno and floor banger as a label in 2014?
I never had the intention to release only stomping techno and floor banger. I release the music I like. It could be techno or ambient or experimental but it depends on my personal taste and on my judgement.
3. How do you work as a producer? What are your favorite tools in the studio?
I produce music with a computer and different hardwares. I would prefer to use only hardware equipment but at the moment, due to finances problem, I can't afford it. So I mix both digital and analog but my productions are mainly 70% analog and 30% digital. I have different analog synthesizers. I love my Moog Slim Phatty and my Cyclone TT-303, I also use a Vermona Mono Lancet, an old Evolver and my first synthesizer, the Waldorf Micro Q. I'm planning to get some drum machines and to use the computer only as a sequencer and maybe prepare a live set soon with all my equipment. I don't really have a favourite tool, cause each instrument have a different role in the production.
4. When I look at your discography, I was surprised by the number of split EPs and collabs you did. Is it an unexpected result or is there a purpose behind all this collabs?
Well the answer is easy, I like to push my music and I think collaborations are a really good way to do it because when 2 artists are working on the same track you have a double amount of ideas and I also really enjoy sharing ideas and discuss a way forward. I think the best and more productive collaboration has been so far with my friend Darren Roberts (Deepbass) with whom I worked incredibly well and fast. The flow of ideas was great and we manage to do quite a few tracks in a short period of time. You'll see the results soon enough. I have to say though I also enjoy working with Alessio Pili with whom I created Uchronox, that for me is a really good track.
5. You moved from Italy in order to live in London in 2005. How does it changes your life as an artist?
I moved there mainly for personal reasons. At that time the atmosphere was much different, much more experimental music, and I really enjoyed my first time in London. I think my artist life changed when I met Glimpse which released my first track on Disappear Here a label distributed by Kompakt. But when I studied Sonic Arts my vision of music changed. I discovered different ways of making music, different technologies and that University course had an amazing impact on my creativity.
6. What are the aconito records upcoming projects?
Coming up next is my collaboration with Darren Roberts (Deepbass) on vinyl and only vinyl, 3 techno tracks that we created in Glasgow last summer. Then later in 2015 will come out as well the last vinyl of the Seed Series that will be a various artists. Also I will keep releasing more experimental and ambient stuff on the Digital Series, with some new and old artist of the label, I will also include an experiment by myself that I'm working on at the moment, but I see the Digital Series as "more for listening music".
7. What are your five favorite tracks ever? Your five favorite aconito's tracks?
It's difficult to find 5 favourite tracks ever, there is so much stuff I like, I have a collection of more than 5000 vinyl. I'll say few title of tracks I love that comes to my mind right now. One could be definitely Polynomial C by Aphex Twin, as a techno track I think one of the best one ever done for me is Infiniti – Game One, then I could definitely say Marionette (Live Edit) by Mathew Jonson, then Somatic Responses Qonklow and definitely Valium The Zenith on Ufo London 002.
For what concern Aconito best tracks, I think Marilia has a good place between them, aslo Tanaerum by Obtane, definitely I could easily say Outgas by Hironori Takahashi, then The Ancient Being Is Dancing In Your Mind by Ink and last one Notte Del Mondo by Zone Démersale, but I also want to add that is not an easy choice and that they might vary from time to time as I really like them all, if didn't I wouldn't have released them.
Thanks for answering nAx!!!