Run On Recordings tracks_100%__Unreleased tracks_95%
0001__ajwd, Obstrct__Introductory (Original Mix)____Run On Recordings_2015
0010__Sore Icon__Weird Invasion____Run On Recordings_2015
0011__Enformig__Zyklon B____Run On Recordings_2015
0100__Owen Ni__The Wave____Run On Recordings_2015
0101__Owen Ni__Hallucinations____Run On Recordings_2015
0110__Sore Icon__Afterimage____Run On Recordings_2015
0111__Owen Ni__Hallucinations (G.R.I.T. Remix)____Run On Recordings_2015
1000__bR1__Dub for Owen____Run On Recordings_2015
1001__Sore Icon__Ninth Syndicate____Run On Recordings_2015
1010__Plural__Dark Corners of the Mad____Run On Recordings_2015
1011__Enformig__I am Empty____Run On Recordings_2015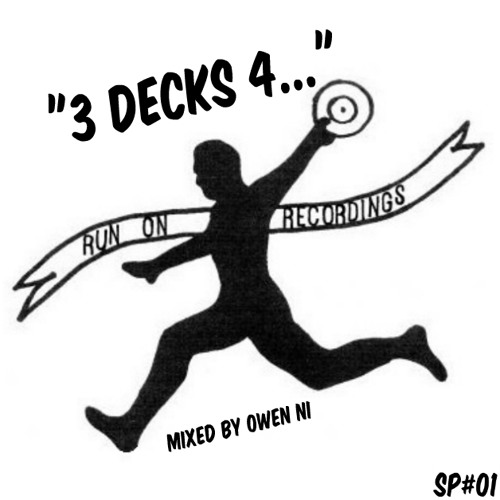 This week is a bit special for me… The events in France leads my wishes to make music to nothingness, and Owen Ni offered me in the same time to share a mix showcasing the forthcoming releases of his new label : Run On Recordings.
So, unusually, it's not me behind the decks for this episode, and as for the previous episodes, Owen answered a few questions.
1. Hi Owen, What leads you to create your own label ?
Well one could say that's the natural progression of an artist in electronic music now days. Once establishing yourself, then you tend to focus on an imprint for yourself. Though I have to say I started my label for a very simple reason, I love music. As people will see in future releases on the label, Run On is kinda like a big melting pot of different artists from different genres. Not just electronic music either. I want the label to be a nest for creativity and expression of artists.
2. The first release, a VA, is really focused on deep and dubby techno. Nethertheless, the mix you offered gives us a very wide range of sounds. How did you choose the tracks you'll release and what are your plans for the future ?
So far, alot of the people that have signed something to the label are friends I've made over this past year. So it's a lot of me just contacting them and seeing if they are interested. The selection process is as simple as, I listen and if it's good, it's in. As far as the future goes, at the time that this is published I already have nine releases confirmed for the label. and 3 being LPs. Of course, they probably are not what you'll be expecting, but that keeps it interesting, haha.
3. How do you consider the techno scene in the united states. I recorded two mixes focused on chicagoan labels, but how is Alabama scene ?
Alabama is a beautiful place, but unfortunately the scene isn't very strong over here. I know a few local guys as well as myself that really are the only ones doing things here. Most of my work comes from production rather than playing gigs, and producing is actually my favorite part of what I do so i'm fine with this. Though I have to give some credit, I really do see more and more people spreading the love about electronic music here, I just hope the Alabama scene eventually gets more open-minded and researches the roots of genres like dubstep, rather than just assuming it fell from the sky.
4. How do you work as a DJ and as a producer ? Do you have any particular tools or software you like more than anything else ?
As a DJ it's just Traktor S2 and a controller. I know I might get flack for that but I've always looked at it this way. When I play gigs, I try to show them new music they haven't heard before as well as show them music I've made myself. I'm not on stage waving my arms around and showing people what I use to present the music with. I feel like no matter what you use, the music will always be a bigger priority. As for the Producer side of things, Ableton and some obscure VSTs is how I make almost everything. A VST that ends up in about everything I do is the TAL U-NO-62. For a free VST, it's been quite useful.
5. What are your five favorite tracks these days?
I can only pick 5? Wow this is difficult, haha. Let's see:
1. Soulphiction – Born Again
2. The Kooky Scientist – Rambunctious, and older one but I recently found it so I think it's appropriate to list.
3. Theo Parrish – Fallen Funk
4. A Complete Stranger – Innervision
5. Cyrus – Newbeginnings
TRACKLIST : Run On Recordings tracks : 100% | Unreleased Material 90 %
Run On Recordings : runonrecordings.bandcamp.com
Owen Ni : www.facebook.com/owenniofficial